OverBlog: the unique place to gather your best content
What is OverBlog Social Hub ?
It is a way to gather your social network updates in one place: your blog.
What social networks can I connect to my OverBlog blog ?
OverBlog enables to connect your blog with Twitter, Facebook, Foursquare, Instagram, Flickr, Pinterest, Google + and Youtube accounts.
Why shall I use this service ?
There are several opinions. Connecting your site to social medias may help to build an audience, to keep your blog fresh and always updated, to display your digital identity, to keep up with your latest social media updates, etc. Creating your own place on the internet has never been so easy ! Also, OverBlog social hub enables to search for an old Tweet, Facebook post, etc. in a couple of clicks.
Any feedback ?
Yes, of course. OverBlog is made for you. Anything created or upgraded is based on your feedback.
The following travel blogger has written a post about OverBlog and the Social Hub :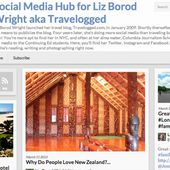 Social Media for Travelers: Making Overblog Your Social Media Hub
Find yourself spending more time on social media than on blogging? Create de facto blog on Overblog as you curate your social media feeds and display them all in one place. Also good for travelers ...
Click HERE to find out more about the OverBlog Social Hub and the platform itself.